It is essential that we increase the representation of female military in UN peacekeeping operations.
Increasing the deployment of female peacekeepers to peace operations significantly, contributes to achieving sustainable peace and the improved wellbeing of women and girls in conflict-affected regions.
Security Council Resolution 1325 urges equal participation of women at all sectors of peacekeeping operations, including the military. This is also reinforced in  the policy on gender equality by the Departments of Peacekeeping Operations and Field Support  and the guidelines for integrating gender perspective into the works of the UN  Military (2010).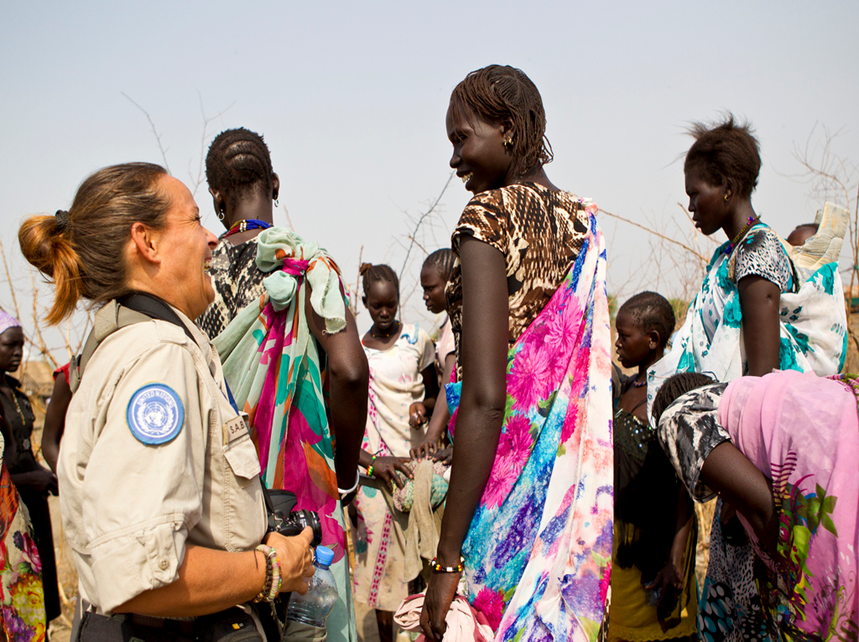 UN Photo / A female peacekeeper talks with local women in South Sudan.
Role of female military in peacekeeping operations
Female soldiers are not only able  to perform in the same functions and capacities as their male counterparts, from command to frontline roles, they also bring an added value to military operations. Female soldiers bring an additional perspective in planning operations and in making key decisions, especially those affecting civilians, particularly women and girls. This is a critical consideration for a mission as it provides a holistic approach to meet its mandate in today's complex and evolving peacekeeping environment. 
Female military also serve as role models in the local environment, encouraging women in host countries to consider security sector as a career option.
Some unique tactical skills female military bring to this field include screening of female civilians and conducting of house searches in areas where it is not culturally appropriate for men to enter private spaces. Local populations in  host countries often feel more comfortable liaising and sharing information with military troops that include women alongside men. By obtaining better information, we are able to better protect these communities. 
Find out more about women in peacekeeping, including recent statistics on their representation in peacekeeping operations.
Female military peacekeepers network
The Female Military Peacekeepers Network was created in April 2015 and  so far about one hundred former and currently serving female military peacekeepers have joined the network. The network is an initiative of the Office of Military Affairs, with the aim of uniting female military who currently serve or  have served  in UN peacekeeping operations. 
The network promotes, strengthens and advances the profile of female military peacekeepers, and  creates a space of mutual support, mentoring, training and advocacy for UN female military personnel. It allows women to share their experiences and  encourages the participation of female military across all ranks in UN peace operations.
How to become a member of the network?
Request to join our Facebook group: "UN Female Military Peacekeepers Network", or contact the local network group in your mission.