Set up in 1995, UNMIBH exercised a wide range of functions related to the law enforcement activities and police reform in Bosnia and Herzegovina. The Mission also coordinated other UN activities in the country relating to humanitarian relief and refugees, demining, human rights, elections and rehabilitation of infrastructure and economic reconstruction. Following the successful conclusion of its mandate, UNMIBH was terminated on 31 December 2002.


Click for Mission Map (PDF)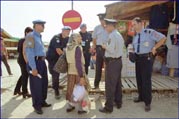 Photo UNMIBH 2001
Monitoring local police in Bosnia.
"Through UNMIBH, the United Nations has demonstrated its ability to complete a complex mandate in accordance with a strategic plan and within a realistic and finite time frame. UNMIBH has completed the most extensive police reform and restructuring project ever undertaken by the United Nations."
UN Secretary-General
Kofi Annan  (S/2002/1314)