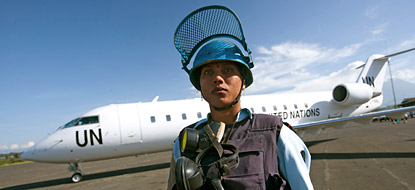 As of 1 July 2010, MONUC was renamed the United Nations Organization Stabilization Mission in the Democratic Republic of the Congo (MONUSCO)
Helping bring peace and stability in the DRC
Following the signing of the Lusaka Ceasefire Agreement in July 1999 between the Democratic Republic of the Congo (DRC) and five regional States in July 1999, the Security Council established the United Nations Organization Mission in the Democratic Republic of the Congo (MONUC) by its resolution 1279

of 30 November 1999, initially to plan for the observation of the ceasefire and disengagement of forces and maintain liaison with all parties to the Ceasefire Agreement. Later in a series of resolutions, the Council expanded the mandate of MONUC to the supervision of the implementation of the Ceasefire Agreement and assigned multiple related additional tasks.
In accordance with Security Council resolution 1925

of 28 May 2010, MONUC was renamed as of 1 July the United Nations Organization Stabilization Mission in the Democratic Republic of the Congo (MONUSCO) to reflect the new phase reached in the country.